Hey there, Friend!
I hope you've had a great week, or at least a very productive one. I know that there have been major events happening that are causing us all to call into question the systemic issues we have been living under our whole lives.
I've been thinking quite a bit over the past few weeks about the system we are all living in and how it is designed specifically to deny opportunity to so many. I truly believe that people are finally waking up and becoming aware and are sick and tired of accepting the status quo. We want and deserve more.
This week, I would really like to share with you my thoughts on what it takes to be anti-racist. I've included an article in this newsletter that I'm only sharing with you. I would also encourage you to listen to the latest episode of the #AskASoccerPro Show where I discuss in depth what is broken with our current system and how we can start to fix it.
As always, please let me know what you think!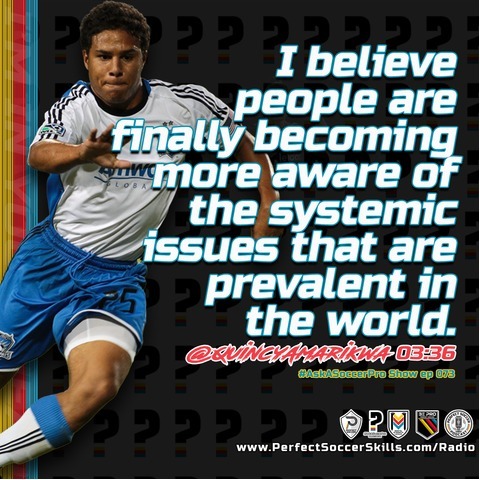 How To Not Be Racist
We've seen many individuals in the past few weeks who have come to the decision that they haven't done enough in the past, or they haven't been active or vocal, or they haven't called things out that they know to be wrong. Now, this is great. They realize the error in their way, and that is a necessary step in the process toward change.
We all make mistakes that we have to self-reflect on in the future and come to the conclusion of whether we were right or wrong. You have to decide what you have been doing up to this point (or what you haven't been doing up to this point) has been alignment who you want to be moving forward. Is who you see when you look in the mirror the person you want to see? Or are you realizing you've been lying to yourself as to who you are and what it is you stand for?
If you've taken that hard look in the mirror and decided that you're not happy with the person staring back at you, what are you going to do about it?
Maybe you've committed to being different, to speaking out more. Posting once on social does not equate to change. If you believe that you have not been doing enough in the past, well, you need to start by making up for the work that you didn't do.
Perhaps you'll commit to posting to social media every day, speaking out against racism, and amplifying black voices. You'll take action to speak up any time there is a racist remark made or even the implication of such a statement.
You are on board with being actively anti-racist, or you're not. You are committed to speaking out, or you are not. You will put in the time and do the work, or you won't. There are no half measures here. You are committed wholeheartedly to being anti-racist, or your words are hollow.
As I said, I've seen a lot of individuals say that they will not hesitate to call out racism or discrimination when they see it, they're supporting the Black Lives Matter movement, and they're listening to black people's experiences and not denying their experiences any longer… that's not the kind of work that just lasts for a week. That's not a commitment that can be fulfilled with one social media post.
If you're saying that you want to be different and you commit to living as an anti-racist, then you're committing to something like posting on social media every single day for the next six months. You're listening to people who might not look like you or sound like you, or have a different perspective or experience than yours. As you listen and educate yourself, you're going to come to a conclusion of what you must commit to as the next step.
I'm calling out the individuals who are saying they're there. They're about that action. They're about change. They're about doing whatever's necessary. I'm especially calling out these individuals who have massive platforms and have been speaking a bunch of nonsense for quite some time. Influencers are part of the reason why the system has been created in the way that it has, and why many individuals haven't had access to opportunity.
Here is my message for all of those who aren't going to show up and do the work; we don't need to hear your fake messages anymore. People have woken up. People understand that words with no action behind them, no commitment, and no consistency over time are worthless.
You don't just show up today. You show up tomorrow and the next day and two weeks from now and a month from now. If people still don't believe you, you show up three months from now, and six months from now, you commit. It's not a commitment to only show up if things go your way, and it's perfect for you and your brand.
You're committed, or you're not. And if you're not, that's okay, but don't lie to us all with false messages and pretend that you are. That's been the problem all along, self-accountability has been lacking.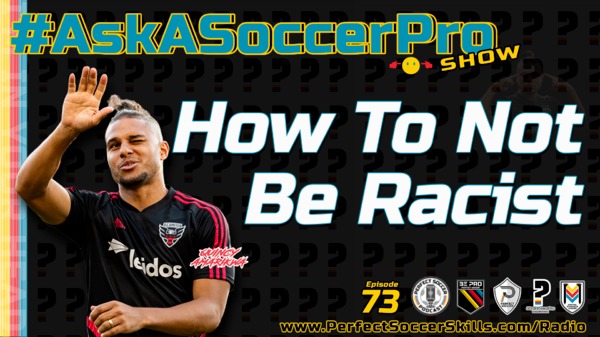 11-year MLS veteran Quincy Amarikwa returned for the 73rd episode of the #AskASoccerPro Show to tackle racism, what he would say to MLS Commissioner Don Garber, why influencers should do the work of anti-racism rather than just making pretty social media posts, and more.Make sure you check out episode 73 of the #AskASoccerPro Show!
Here's what Quincy covers this week:
00:00 – 02:05: Welcome To The #AskASoccerPro Show
02:07 – 06:02: What Quincy Would Say To MLS Commissioner Don Garber ?
06:06 – 10:50: Why Continue to Fight For People Who Don't Fight For You? ??
10:58 – 13:35: Will Quincy Become A Coach? @soccer_hq_09
13:38 – 15:58: How Can Parents Help Their Kids Find The Right Organization? ⚽ @oleggrymaylo
16:04 – 22:14: Why Do Elite Players See The Game Differently From Average Players? ?️ @yojxrdan
22:17 – 23:37: Does Working On Your Business Take Away From Focus? ? @johnhollinger
23:38 – 29:16: How To Not Be Racist
29:20 – 30:51: Taylor Twellman's Dangerous Tweet ?
31:11 – 32:26: What Do You Think Players Like Griffin Yow And Alfonso Davies Do Differently From Other Young Players To Reach The Level They're At? ⚽ @yojxrdan
32:31 – 36:52: How Starting At The Bottom Is An Advantage
37:17 – 45:26: How Does Quincy Mentally Challenge Himself? ????? @johnhollinger
43:59 – 45:26: Why Perfect Soccer Is Free? ?
45:31 – 49:28: What Is Quincy's Favorite Move To Create Space? ⚽
49:35 – 51:48: When Will Quincy And Sebastian Salazar Talk? @johnhollinger
52:00 – 56:09: How To Keep Up With A Bigger Player @sabrinaa.demarco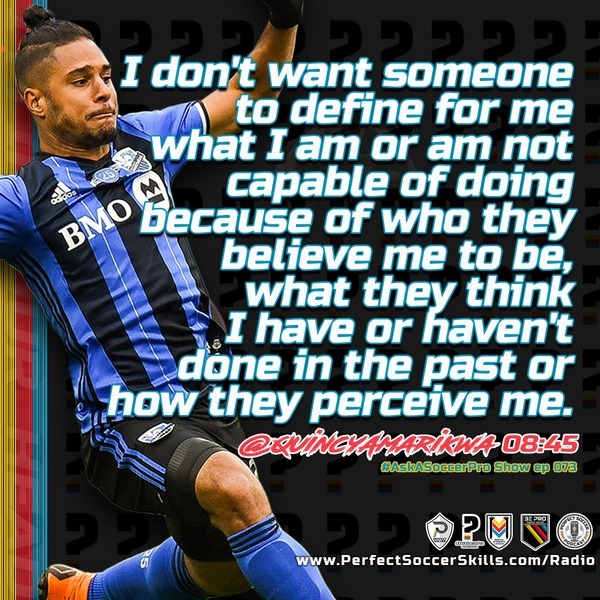 Fresh Content
How To Not Be Racist | #AskASoccerPro Show Ep.073
Marc Pelosi | Perfect Soccer Podcast Ep.023
Articles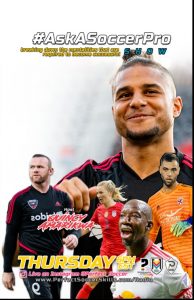 This Week On The #AskASoccerPro Show
I'm looking forward to seeing everyone on Thursday when we go live at 6 pm PST/ 9 pm EST with the #AskASoccerPro Show over on Instagram.
I'll be speaking with [guest name here]
Please join in!
Please feel free to shoot me an email if you have any thoughts or feedback
Looking forward to seeing you on Thursday!
Until next week,
Quincy
Mental Strength Coach
MSL – Mental Strength League
www.QuincyAmarikwa.com/About