Hey there, Friend!
I hope this message finds you and all those that you care about healthy and safe. It has been quite busy on my end, especially in these past 3 weeks.
As you may know, I've been (still am) in my free agency year. We (my wife and I) typically head back to California in my offseason.
But with the birth of our second son last year, we decided that we would stay on the East Coast until we knew where I would be playing for sure or not next.
With how everything was unfolding the family and I decided it would be best to pack up and move back to California. It was quite an adventure packing and traveling across country with 2 under 2, but it was a success!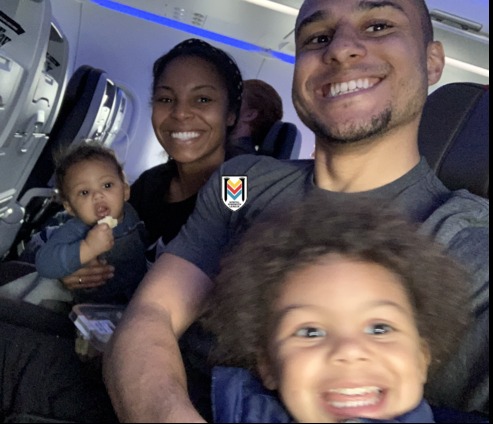 During that time we were also in the middle of restructuring our marketing company (EVLV.Online) and the Perfect Soccer Team (PerfectSoccerSkills.com), much in part due to everything I learned as a result of being in D.C. and playing for United last year.

With all of the moving parts I fell behind on my personal newsletter, so wanted to apologize for that.
I had a read back at what I had shared in the previous newsletter and I can see how stunning it can now seem with how much can change in such a short period of time.
The MLS has since shut down, and most never prepared for that possibility.
I broke down how I go about preparing for an uncertain future in ep 50 of the #AskASoccerPro Show when a live member asked my thoughts on the expansion of the MLS. (link will take you to minute 14:55 – 22:00)

But that's what the MSL mindset prepares you to thrive in, uncertainty.

What is seen as chaos for others, is our opportunity. Like I had mentioned just a few weeks ago in my last newsletter…
-Previous MSL Newsletter

"So goes the uncertainty of free agency and most of the world of professional soccer…
People have their thoughts and ideas for what focusing on your career "should look like."
And because of that, at some times (many times) my pursuits to prepare myself for my post career, in my free time during my career, hasn't been seen or understood as a positive… yet."
I want to point out YET.

As time goes on, and the current state of the world, I think people will see what I've been doing for what it was/is, not what many first believed it to be.

Though I'm confident in this, we'll see…

Hopefully like you, I'm staying at home with my family and practicing social distancing to help keep those who are most vulnerable, safe.

It's easy to get drawn into the never-ending news cycle or go down the rabbit hole of social media. But all of that takes precious time and mental energy that could be devoted to other things.

I'm not saying ignore the news or stay off social media all together, but a bit of self-awareness will help us to avoid giving them too much of our most precious asset, time.

If you're looking for a valuable way to invest an hour, I interviewed the legend, Bradley Wright-Phillips, on this past week's #AskASoccerPro Show (Ep 061), and wow! You won't to want to miss that one!

On top of that, I wanted to take a moment to speak on how to make the most of these coming months and weeks…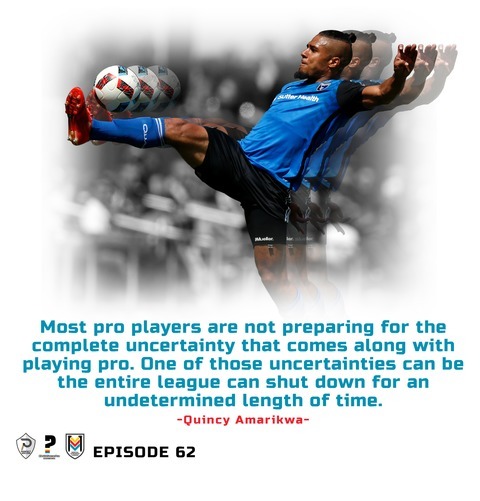 Capitalizing on the Time You Didn't Know You'd Have
We're in an unprecedented period of uncertainty, but what we do right now will either set us up for success or failure in the weeks and months ahead.

I feel like a lot of people are going into this time wondering, how long is this going to be? What's it going to look like? How's it going to play out?

And I think it's important that during those times you're preparing yourself so that you can maintain your sanity while there is uncertainty.
This is why we developed the MSL, so every person has the tools to learn how to critically think to get through, learn from, and thrive as a result of these sorts of difficult times.

These are the sort of times we have been mentally preparing for, the kind of times we will now welcome as a challenge because we have put in the work, we are continuing to put in the work, and we will stay consistent, no matter what temporary obstacles are thrown in our way.
I know it feels like the whole world has stopped (and in may ways it has) however, we've also been given an unexpected gift right now; time.

As everything in the world has been put on pause, it's our chance to capitalize on the influx of time we've been gifted. So, what will you do?

Will you waste this time you've been given, or will you turn it into a productive period that helps you reach your goals? It would be easy for me to enter into a state of stagnation. Feel sorry for myself, and the hard work I've put in to get to this point.
After all, I'm a soccer player and soccer has just been cancelled for the foreseeable future.

So what do I do?
I choose to work on the things that are currently within my control. I can't yet control if they will start the MLS season back up soon, I also can't control if I'll be signed to a team right away.

What I do have immediate control over is what I choose to focus on from now until the 3, 6 or 12 months from now when things get back to normal, and beyond.

I continue to work on my personal development, online education, relationships and businesses.

I'm always in control of the amount of effort I choose to put in there.

I have control over staying consistent in creating new content for Perfect Soccer, supporting the online community, improving our online content, refining our processes, creating more programs, continuing to improve with this newsletter and whatever else I commit to learn during this time.

So, I have control over quite a bit actually.
How about you?
Are you starting a business?
Continuing your education?

What goals do you have that you are pursuing right now?
How can you take advantage of this time to maximize your progress toward your goals?
Remember, everything we do builds up exponentially over time; both the positive and the negative.

Even if you're only able to put in a small amount of work each day toward your goals, it adds up.

Just ten minutes a day of time invested in working toward your goals will add up to hours a month spent working toward something important and valuable.

Now what will zero minutes a day add up to? Nothing. There are no 'do overs.'

Once the time we are being given is gone, we can't use it in hindsight. (Or can we?) This is why I always stress that time is our most precious asset, the thing that we must invest wisely and not waste, no matter what!

If you don't strategically invest your time now, you won't be able to look back six months from now and say, "oh, okay, let me allocate more of my past time to working on my businesses, my relationships, my goals, etc." However, if I put in the time now, and stay consistent, in six months, I will see some of the results of my work, even if I only put in a consistent ten minutes a day.

Over six months, ten minutes a day adds up to over thirty hours of work, that's almost an entire full-time work week.

Now, what if I put in 20 minutes a day, 30 minutes, or a whole hour?
That small investment of time is going to really add up! All it takes is establishing that good habit of putting in the work for a short period every single day.
I always go back to the pushup challenge. That's the simplest way to think about it.

If you can't do that, commit to doing one pushup every day. If you can't do that, then you can commit to doing one squat every day. And if you can't do that, you can commit to doing one of something you can do and then start with that and focus on making sure that you just do that.

Every day. No excuses. No misses.

You get it done. It doesn't matter if you're the sickest you've ever felt before. Everything's not going your way. Nobody is supporting you. No matter what.
At least you do that one thing. You get that one thing done.

And from there you use that to build a basis for applying to other things, like working on your business goals, fitness goals or anything else you can imagine working toward.
You say, 'okay, I do one pushup and one squat every day… I do one push-up, I do one squat, and I say a positive affirmation every day. Then I do one pushup, one squad, a positive affirmation, and then I journal for 2 minutes.' You are now the tortoise. You don't need to be there today, you just need to get there one day. And you will.
Start small, stay consistent.
Eventually you build great habits and you break your bad habits. That's the power of consistency. So, I'll ask you again… how are you going to use this time you didn't know you'd have?
Social Updates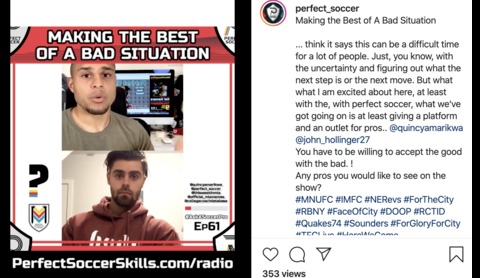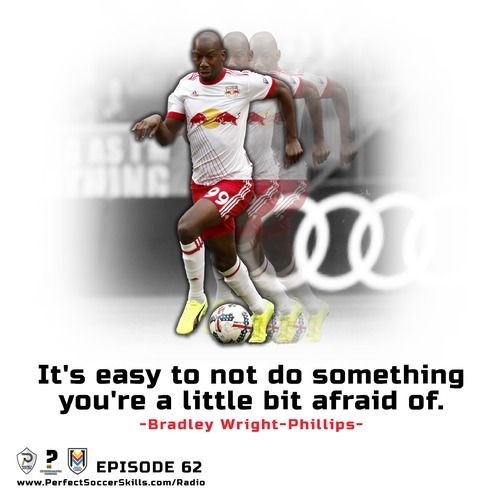 Listen in as Quincy interviews legendary goal scorer, Bradley Wright-Phillips! Make sure you check out episode 62 of the #AskASoccerPro Show!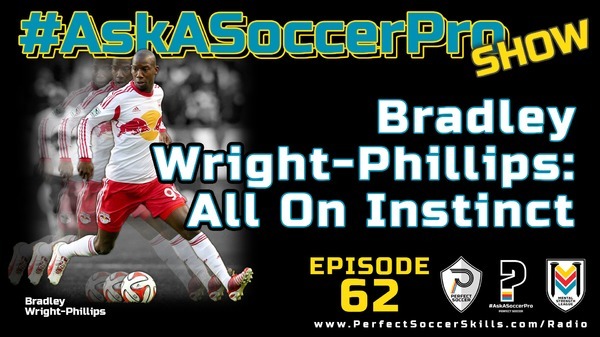 Here is everything Bradley and Quincy covered during this week's episode:
00:00 – 10:39: Intro
12:12 – 15:42: Bradley Wright-Phillips Joins the Live
15:43 – 18:04: All on Instinct
18:06 – 19:42: The Simple Things
19:52 – 25:49: BWP Don't Be a Baby
26:00 – 29:06: Kenny Cooper
29:25 – 31:30: A Long Day for Defenders
32:12 – 37:27: On Leaving NYRB
39:12 – 39:57: Does Quincy Supplement?
41:42 – 45:35: Back in Cali!
45:39 – 47:39: Time You Didn't Know You Had
47:42 – 52:00: Why Perfect Soccer?
52:01 – 56:52: Outro
YouTube: https://youtu.be/_edx3Utpytc
Blog: https://www.perfectsoccerskills.com/blogs/news/bradley-wright-phillips-all-on-instinct-i-aasp-ep-062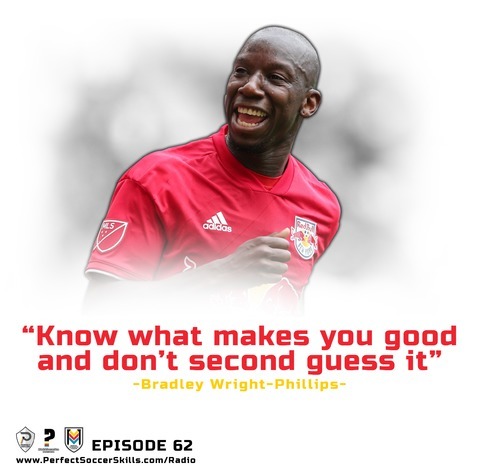 Fresh Content
PS Clips
Bradley Wright-Phillips Joins the Live | PS Clips | #AskASoccerPro Show Ep. 062https://youtu.be/40L5iTa4QiA
Bradley Wright-Phillips On Leaving NYRB | PS Clips | #AskASoccerPro Show Ep. 062https://youtu.be/e0wFye46ECo
A Long Day for Defenders | PS Clips | #AskASoccerPro Show Ep. 062https://youtu.be/vy-o5n-tRm4
BWP Don't Be a Baby | PS Clips | #AskASoccerPro Show Ep. 062https://youtu.be/SXi_rnVuy2Q
The Simple Things | PS Clips | #AskASoccerPro Show Ep. 062https://youtu.be/Fe8699lnvEo
All on Instinct | PS Clips | #AskASoccerPro Show Ep. 062https://youtu.be/oOcmzl28fq0
PodcastsIke Opara | Perfect Soccer Podcast Ep.012https://anchor.fm/perfect-soccer-radio/episodes/Ike-Opara–Perfect-Soccer-Podcast-Ep-012-ebq4hq/a-a1of4ia
Bradley Wright-Phillips: All On Instinct I #AskASoccerPro Show Ep.062https://anchor.fm/perfect-soccer-radio/episodes/Bradley-Wright-Phillips-All-On-Instinct-I-AskASoccerPro-Show-Ep-062-ebmqso/a-a1nt693
ArticlesBradley Wright-Phillips: All On Instinct I #AskASoccerPro Show Ep.062https://www.perfectsoccerskills.com/blogs/news/bradley-wright-phillips-all-on-instinct-i-aasp-ep-062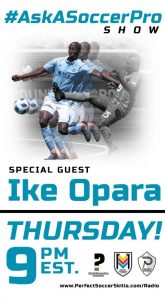 This Week On The #AskASoccerPro Show
I'm looking forward to seeing everyone on Thursday when we go live at 6 pm PST/ 9 pm EST with the #AskASoccerPro Show over on Instagram.
I'll be taking your questions and interviewing Ike Opara of Minnesota United FC!
Please join in!
Please feel free to shoot me an email if you have any thoughts or feedback
Looking forward to seeing you on Thursday!
Until next week,
Quincy Mental Strength Coach
MSL – Mental Strength League
www.QuincyAmarikwa.com/About