Hey there, Friend!
This past week we announced the Black Players Coalition of MLS. I'm so proud to be a Co-Founder and Executive Board Member playing my part in this movement to amplify black players voices within the league and to affect systemic change both on and off the field.
I would love it if you check out the announcement here:
I've also written an article just for you this week about how going back to the beginning can be a solution. I thought a lot about this in the context of soccer, but it also very much applies to the current situation of systemic racism in the United States.
We can't keep moving forward with a broken system, we need to rebuild a new system that gives everyone equal opportunity to achieve their dreams.
As always, please let me know what you think!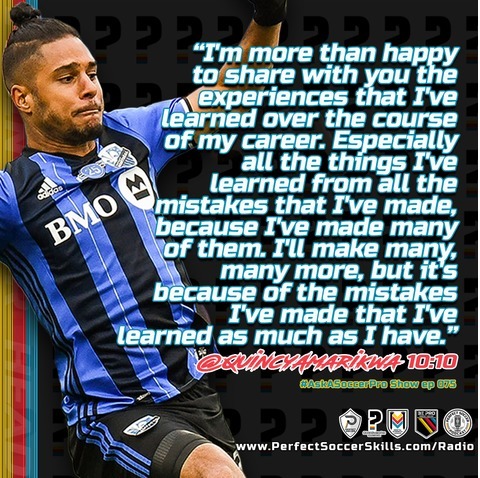 Why Going Back To The Beginning Can Be The Solution
Most people understand the concept of taking two steps forward and one step back. What if I asked you if you were willing to take 100 steps back, to move one step forward?
Somewhere along the way in your training, you may have realized you've lost your way; you've lost control. Would you be willing to go back a hundred steps to a point before you lost control and go through every single step of the process again? Would you go back if it were the only way to move forward?
You blazed through 100 steps of the process before you even realized you messed up. Is it too late to go back? Are you willing to do the work going back requires?
The reality is that most people are unwilling to go back to the beginning to get things right. They would rather muddle through and not put in the work. They simply aren't willing to put in the effort that is necessary to accomplish their goals. The difference in mindset between the person willing to go back to the beginning and the person who isn't willing to put in the work is that one is much more likely to accomplish their goals.
So, what if you're not willing to put in the work, and you know it?
As long as you are acting from a position of self-awareness, meaning you are aware of the consequences of your actions and proceeding intentionally, there isn't a problem.
What I hope the members of our community gain is the ability to understand who they are and what they want for themselves, without anyone else's input. It's a great thing to seek the advice of others and ask for their feedback, but you should first and foremost be able to decide who you are for yourself.
It can be terrifying to decide who you are because if you're the one making that decision, you also need to be the one to take the blame when things don't go as planned. It's hard. Many people would prefer to put the responsibility for their failure on someone else, so they don't have to blame themselves when things go wrong.
Remember, you can overcome temporary obstacles. Over time you'll learn how best to figure out the challenges you face and how not to waste as much time to move forward on your journey toward your goals and the future you want.
I asked before if you would be willing to go 100 steps back to make it to the 101st step. What we really want to achieve as we move forward is not to continue taking a hundred steps before we finally realize we've made a mistake. Better yet, lets only take one step and realize we've messed up so we can correct our error quickly and move forward!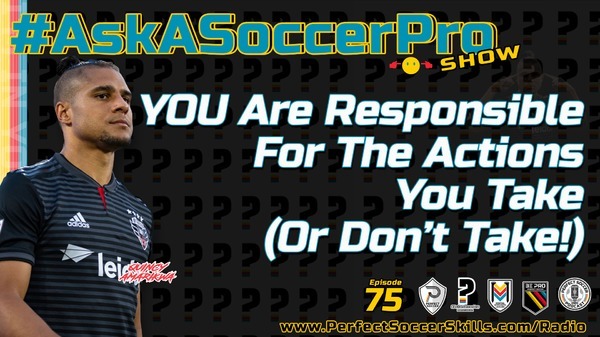 11-year MLS veteran, Quincy Amarikwa welcomes you to episode 75 of the #AskASoccerPro Show! This week Quincy answers your questions and discusses the various avenues for young players to go pro! Make sure you check out episode 75 of the #AskASoccerPro Show!
Check out what Quincy covers this week:
00:00 – 04:20: Welcome To The #AskASoccerPro Show Ep 075
04:21 – 07:46: What's Up With The 3 S's Of Self-Awareness?
07:48 – 12:10: What Has Quincy Been Up To?
12:11 – 15:16: 20/20 Vision Is Coming Into Focus
15:18 – 19:26: How To Stop Rushing Your Play
19:28 – 23:11: Are You Willing To Go Back To The Beginning To Move Forward?
23:12 – 26:36: Following Quincy's Advice, Luka Gets 3 Offers After His Tryouts! @theluka_03
26:43 – 28:30: Finding A Way To Pro, Even With The Shutdown
28:33 – 31:29: Meet Dylan! @perfect_soccer 's Newest Official Gamer @nocontex_dylan
31:33 – 34:47: Does Quincy Weight Train?
34:42 – 40:02: Can You Go Pro If You Don't Have A Lot Of Natural Talent?
40:09 – 44:18: Getting Started On The Road To Pro @mohsinmalik14
44:28 – 48:31: How To Make It To D1
48:35 – 53:26: How To Cope With Being Overwhelmed
53:27 – 55:25: YOU Are Responsible For The Actions You Take (Or Don't Take!)
55:29 – 60:00: They Don't Want You To Win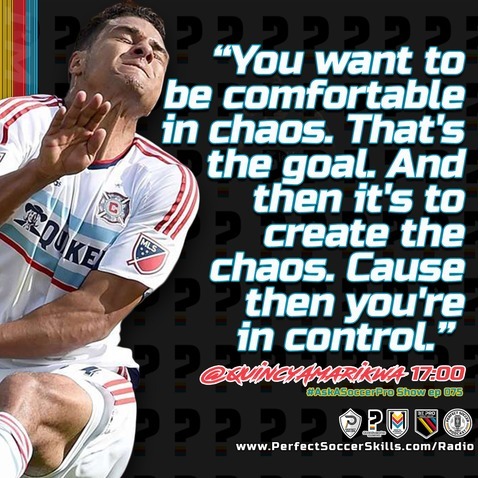 Fresh Content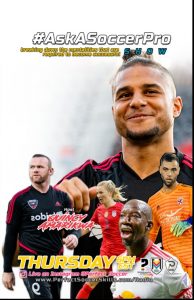 This Week On The #AskASoccerPro Show
I'm looking forward to seeing everyone on Thursday when we go live at 6 pm PST/ 9 pm EST with the #AskASoccerPro Show over on Instagram.
Please join in!
Please feel free to shoot me an email if you have any thoughts or feedback
Looking forward to seeing you on Thursday!
Until next week,
Quincy
Mental Strength Coach
MSL – Mental Strength League
www.QuincyAmarikwa.com/About